Paint is amazing for transforming a space on a budget. It doesn't require a lot of work, and you can create a whole new look for your home. If you take the time to paint a metal front door, you can amp up the curb appeal and give your home a major refresh. Painting a metal exterior door takes some planning, preparation, and effort, but it's certainly a feasible weekend DIY project for just about any homeowner
How to Paint a Metal Door
Gather Supplies
Remove and Prep Door
Start Sanding
Prime
Paint
Rehang Door
Metal doors, often made of steel, aluminum, or even fiberglass, offer a lot of great benefits. They're sound and sturdy, offering solid protection, durability, insulation, and weather resistance you can count on. But, like many parts of your home that are constantly exposed to the elements, they can get a little worn over time. While most metal doors may last a lifetime, the paint that covers them has a much shorter lifespan. Scratched, faded, or even rusted metal doors are not uncommon, but you can remedy most of these with a little elbow grease and a nice, fresh coat of paint.
Can You Paint a Metal Door?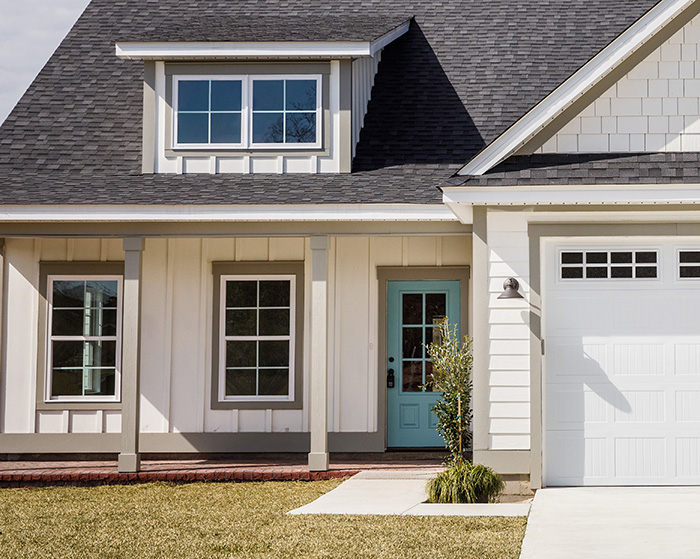 Absolutely! The steps you'll take to prepare may be a bit different from those you'd take to paint other materials like wood, but you can give your metal door a new paint job that will look beautiful and give your home a little bit of a facelift.
Because the surface of a metal door doesn't absorb paint, the preparation work you do in advance of painting becomes especially important. Without the right prep work, the painted surface of your door could end up looking bumpy or rough instead of showing the smooth, polished surface you're going for. If you take your time and plan carefully, your new painted metal door can look amazing after installation. These techniques will work for everything from a metal front door to a
metal panel barn door
for the interior of your home.
How to Paint a Metal Door
Let's take a closer look at the step-by-step process for giving your metal door a new look.
1. Gather Supplies
It's best to get organized before you start. You'll need exterior paint, along with primer, fine-grit sandpaper, rags or sponges for cleaning, a degreaser, and some sawhorses. You'll also want protective items, like safety goggles, gloves, and maybe even a painter's mask. Make sure you also have painter's tape, paint brushes or rollers, and a paint tray. If you'll have to strip any old paint, you'll also likely need a chemical stripper and a scraper.
2. Remove and prep your door
The first step is to remove your door from the door frame and put it in a well-ventilated spot where it's raised off the ground. While it is possible to paint your door while it's still in place, it's more difficult to get the most polished finish possible. In fact, the easiest way to paint your door may be to lay it across a couple of sawhorses if you have them.
If there are any parts of the door you don't want to paint, like glass panes, you'll need to cover them before you start. Also, be sure to remove all door hardware and put it in a safe place until your door is completely dry. That usually includes the lock, hinges, doorknobs, kick plates, and door knockers. Trying to paint around door hardware is awkward and makes the process slow, so you'll need those out of your way.
It's important to clean the door before you start any part of the painting process. You can use a degreaser to make sure the surface is nice and clean—just follow the manufacturer's instructions and be sure to wipe the door completely dry when you're finished. Because most metal doors are exterior doors, they're exposed to all kinds of environmental substances, so using a degreaser will ensure grime, dirt, oil, and any other materials that could mar your paint job are effectively removed.
Once you've finished with the degreasing cleaner, wipe down your door with a clean, dry cloth and leave it to air out for about an hour before moving to the next step.
3. Start Sanding
Before you apply any paint, you'll want to lightly sand the door's entire surface with a fine-grit sandpaper. This will help the surface more readily absorb the paint, and can also help remove any residual paint, corrosion, or even rust that might mar the overall finish. It's important to make sure you're using a fine-grit sandpaper rather than something that's too abrasive and could scratch the surface of your metal door—400-grit usually works well for this purpose. You'll want to wear your goggles and a dust mask while you sand.
Once you're finished sanding, wipe the door's surface with a dry cloth to remove any of the dust left behind from sanding. You also can clean your door with a trisodium phosphate (TSP) cleaner and then rinse the surface.
At this point, your exterior metal door should be ready for painting. Take note, though: doors installed before 1978 are likely to have been painted with lead paint, so you'll need to follow special environmental guidelines for stripping or sanding paint if that's the case. If you don't know whether your door is painted with lead paint, you can have it tested before you begin your project.
Something else to consider: this technique works if the current layer of paint on your door is still smooth, but just needs to be refreshed or you're going for a color change. If the current paint has been baked in the sun and starts to buckle or crack, you're better off stripping the old paint off before you sand. You can use a chemical paint stripper or a heat gun to remove this layer of baked-on paint. As you're stripping the paint, be careful not to scratch or gouge the surface of your metal door. And if you're using a chemical stripper, make sure you're in a well-ventilated area, preferably outside, while wearing goggles and a painter's mask throughout the process.
4. Prime
You'll definitely need at least one coat of a high-quality primer. This will help the overall finished look of your door and also provide an extra barrier against environmental elements and wear and tear. You may be able to find a primer designed especially for hollow metal surfaces. The best thing is to apply a coat, let it dry, and then apply a second primer coat as needed. If the surface of your door is flat, you can roll the primer on with a roller, but if your door features recessed panels, it will be better to apply primer with a small, angled brush within the recessed portions.
If you want your paint and primer to remain only on the surface of the door, it's a good idea to tape off the edges so that the lines around each edge will be as clean and crisp as possible. It takes a little extra time at the beginning, but it will make your finished job look much more polished.
5. Paint
Once the primer is dry, apply a couple of coats of your exterior paint of choice. We recommend a semi-gloss or exterior satin paint.
Make sure to let the door dry completely before you apply your second coat. You should expect to use two coats of paint at a minimum, but you can always add more if you need it. The number of coats you'll need also is influenced by your choice of paint color; lighter colors may need more coats to get the final result you're looking for. Check the paint manufacturer's recommendations for number of coats and how long to let each coat dry.
6. Rehang Door
Once the door is painted and completely dry, you can follow the opposite process you used to prepare it. Remove any painter's tape, reinstall your hardware, and rehang the door within its frame.
7 Popular Metal Door Colors
Most metal doors are used as front doors, along with
custom interior doors
, and there are several trendy and classic colors you can consider. It's amazing how a fresh coat of paint can make the façade of your home pop. Below are a few of our favorite colors for metal doors:
Blue: Blue comes in so many shades that work well for metal doors. There's sky blue, which is relaxing and welcoming, or there's always a classic and sophisticated navy blue, which essentially works as a neutral. A teal or peacock blue, on the other hand, is a rich jewel tone that provides a happy pop of color.
Yellow: You can go for a bright and arresting mustard yellow, or a soft, sunny springtime yellow that makes your home's façade feel welcoming and inviting.
Coral: This is a bright and unexpected color for a door that's also refreshing and fun. It's quirky, yet elegant, and definitely will stand out for your friends and family.
Clay: Depending on the style and color of your home, terracotta-inspired paint colors can invoke feelings of old-world charm and warm welcomes.
Green: Think bright, springy green that's reminiscent of sophisticated homes lining Amsterdam's canals. Or a dark, moody green that borders on black, which can provide a dramatic and unexpected sense of boldness to your home. A soft, earthy green makes the entry to your home a calming and nature-inspired focal point.
Black: Always sophisticated, a high-gloss black door can make a dramatic first impression.
White: Simple, light, airy. A white door can brighten your space while making it look clean and inviting.
Red: A red door can provide a bold and sassy pop of color to brighten your home's façade. It's a lot of fun and provides a good conversation starter for visitors to your home.


Paint a Metal Door to Give Your Space a New and Refreshed Look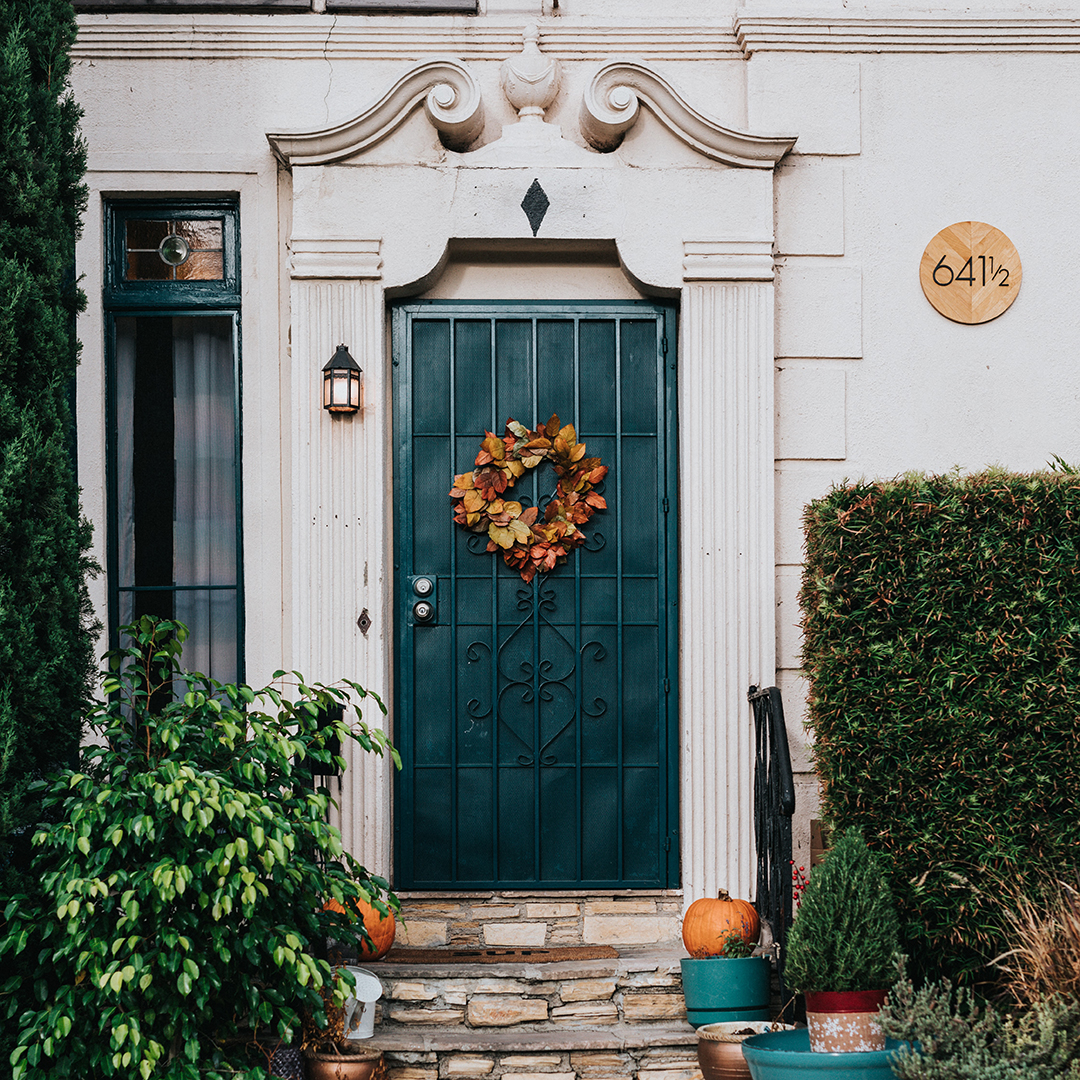 With some patience and advance preparation, you can inject new life into a metal door and upgrade your home's curb appeal. You just have to remember that paint isn't absorbed into the surface of a metal door the way it is with a wood door or entry door made from other materials, so the preparation and painting process are a bit different. If you follow the steps listed here, we're confident you'll do an amazing job of painting your metal door and giving your home a much-needed refresh.
And if you'd prefer, you always can choose a pre-painted metal door, like the many we carry at Artisan Hardware. With a wide range of customization options, styles, and colors to choose from, we can help any homeowner select the door that will provide the right welcome and expression of style for your home—from
barn door kits
and sliding ladders to unique hardware choice and outdoor living options, we have what you need to make sure your home reflects your personal style.