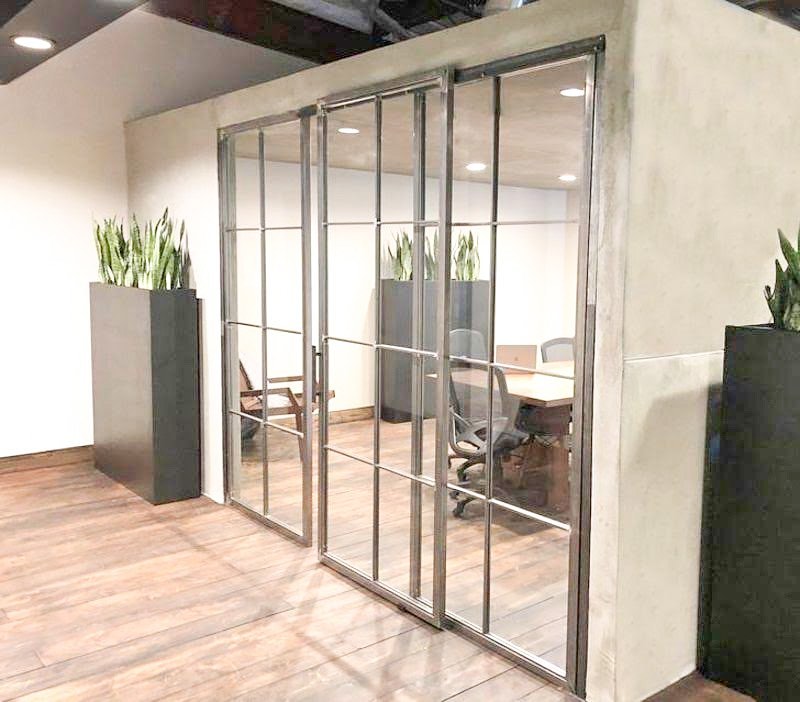 It can be hard trying to decide which hardware system fits your style best, or maybe you don't want the hardware to distract from your barn door… That's where the No Show Sliding Hardware comes in. The
No Show Sliding Hardware
can also be used for barn doors where standard hardware will not fit. This hardware system is a perfect low clearance option.
The No Show Sliding Hardware hides the barn door weels behind your barn door. This creates a fresh, modern design. The No Show Sliding Hardware is a popular option for our metal barn doors. It's easy to see why! This hardware option fits seamlessly with any of our metal doors. Providing a sleek look.
While popular in modern homes, this track system works great for other styles as well. Many of our customers simply love the No Show Sliding Hardware because it provides them with an easy to install, low clearance option. Just as the
Traditional Glass Barn Door
adds a stylish modern feel, the
Artisan Brace Sliding Barn Door
still has that rustic look with the No Show Hardware.
The No Show Sliding Hardware is powder-coated. Only a small part of the No Show Sliding Hardware will be visible, so you will still want to try and match your track to your barn door hardware. The wheels will be hidden at all times. This track will also come with spacers, lag bolts, 2 stops, and a bottom door guide.
We think the No Show Sliding Hardware is a fantastic option for anyone looking for a sleek look or if you need a low clearance option. All of our products are made in house using the best materials in the industry. If you have any questions or need help with your order, please feel free to contact our service team. They are eager to help!