Midcentury modern is a popular design choice when decorating your home. It incorporates clean lines and geometric shapes. It creates a more "lived in" look than a standard modern style. Think tweed baskets, dark wood and comfortable furniture. A mid-century modern style seeks after a homey feel with aesthetically pleasing pieces. Pops of color and eye-catching patterns against neutrals is what makes this style stand out.
To create this style, we have designed 3 midcentury style barn doors. The
Midcentury 5-Panel Glass Barn
,
Midcentury 3-Panel Barn Door
, and
Midcentury Panel Barn Door
are easily incorporated into your midcentury home. Barn doors are usually associated with a more rustic style. Artisan prides itself on providing customers with a barn door to fit every style.
These three doors each feature windows making them ideal for allowing in a little more light to a room. Natural lights contribute to the midcentury style perfectly. If you are looking for a little more privacy, the Midcentury Panel Barn Door with frosted glass would be able to provide that for you. This thin panel window will still provide light, but the frosted glass will help keep things private. While you can choose from any of our available stains and paints, we suggest choosing a dark stain to maintain this barn doors midcentury aesthetic.
Midcentury modern is becoming more and more popular. This design style has all the benefits of a modern style with a fun twist. Many people find unique ways to express themselves through this style. Having one of our midcentury barn doors in your house is just another creative way to do that. Each of these midcentury doors are handmade in the USA by our expert craftsmen. They thoughtfully put together each door with your specific customizations in mind.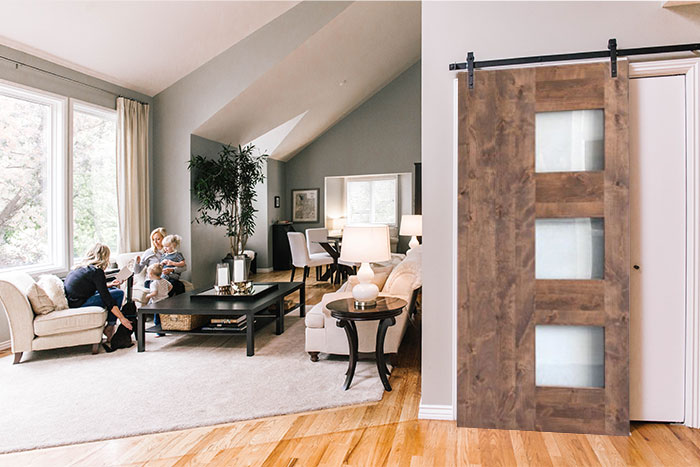 If you have any questions about these doors, give our service team a
call
. They would love to help in any way they can.