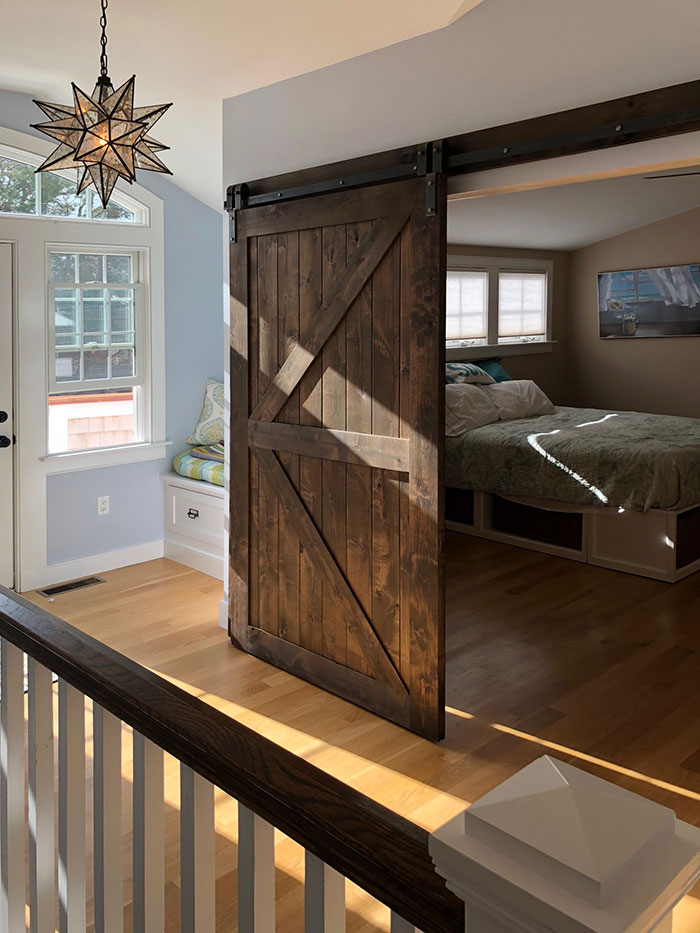 Since barn doors slide rather than swing, they are a great way to save space. They are such a fun way to update a room by adding a little more texture and personality to it. You can switch out any hinged door for a barn door as long as you have enough wall space for the railing.
This might seem like a complicated task, but it really doesn't have to be. Especially with a prehung barn door and hardware system. Switching out your hinged door for a prehung sliding barn door can be done in 3 easy steps.
1. Check Your Measurements
Before ordering your
prehung barn door
and
barn door hardware system
double-check your measurements. Start measuring from the top of the door opening to the bottom. Then measure across the entryway and add on two inches so that the barn door will overlap a little bit. You'll want your railing to be twice as wide as your barn door. Once you have your measurements start ordering!
2. Remove the Trim
You'll want to remove the interior door trim by using a pry bar and hammer. Try to be gentle while doing this. You don't want to accidentally damage the door frame or wall. Once you have successfully removed the trim, cut away any extra caulk on the door or wall. Be sure to remove the casing nails that secured the door jamb to the wall.
3. Install Hardware and Barn Door
With a prehung barn door and hardware system, the hard part is over. It's like adding a picture to your wall. Simply level the hardware and attach it to the studs. Watch how in the video below. Once your track has been hung, align the hangers with your attached prehung barn door to the rail.