Pocket doors are the perfect option for those living in smaller homes with tight space or for anyone simply wanting a better flow from room to room without leaving room for the swing of a traditional door. By installing one of these units, you can add an extra layer of privacy and comfort to any room.
If you're ready to tackle this DIY project, you'll need to:
How to Install a Pocket Door
Examine the Wall
Measure the Opening
Design and Order
Gather Tools and Materials
Remove Old Door
Remove Drywall
Install Header and Track
Mount Door onto Track
Repair Wall and Replace Trim
While installation can certainly be accomplished with one person, having an extra pair of hands around is always helpful. Once finished, you can expect to have years of use and enjoyment out of your pocket wall. Completing projects such as this allows you to put your personal touch and style on each room in your home.
What is a Pocket Door?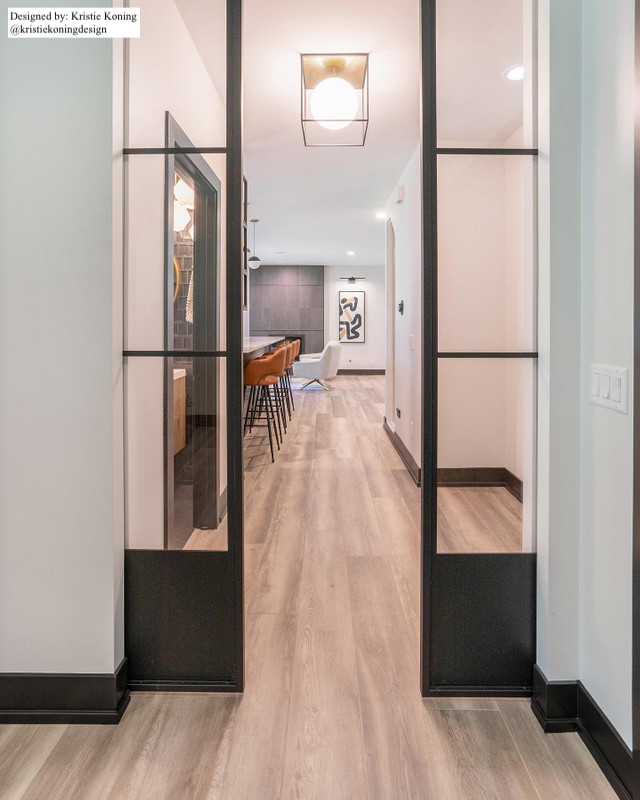 Pocket doors are a type of sliding door, and can be the answer to saving space while preserving privacy and upgrading the look and feel of a home. Traditional swing doors take a lot of floor space to accommodate their wide swing. Pocket doors, on the other hand, slide into the wall where they more or less disappear. The flush pull is built into the door, so when it's fully open, there's nothing to catch on or get in the way.
Pocket doors are similar to barn doors in that both slide open and shut rather than swinging out. Both doors are also top-mounted and glide along a door track mounted into the ceiling or header beam. The biggest difference is in the placement of these doors. Whereas barn doors glide along the outside of the wall, pocket doors fit into the space in between the wall. There is far less construction required for barn doors, but if you value the clean look of a disappearing door, the DIY job for a pocket door will be more than worth it. The pocket door is a popular
type of door
that many homeowners find they can't live without.
How to Install a Pocket Door
If you're considering a pocket door for your home, you'll want to review these basic installation instructions to decide whether to DIY or hire the help of a professional:
Examine the Wall
The first step before choosing where to insert a door is to examine the existing wall. First, you'll want to determine if there is enough wall space to accommodate a pocket door. Then, you'll want to use a stud finder to help determine whether the wall is a partition or a load-bearing wall. If you're looking at a partition wall, you're good to go. If, on the other hand, the wall you want to install your door is load-bearing, you might want to consult with a construction expert. Installing a pocket door in a loadbearing wall is doable, but it must be done right.
It's also important to examine the wall for any pipes and wiring. Walls with pipes cannot be used for pocket doors unless you have a way of rerouting the piping. The same thing goes for wiring. All wiring will need to be safely routed away from the opening or you cannot safely install the door.
Measure the Opening
Once you've established a suitable wall as your candidate for the pocket door system, it's time to measure. Write down the pocket door rough opening size, which includes the doorway itself plus another full width so the door has enough of a recess to fit. Pocket door sizes can be customized and adjusted to unique measurements if needed. Either way, double-check your numbers to ensure accuracy before cutting into walls or ordering your door slabs.
If you're planning on double pocket doors, you'll need to measure space on both sides of the doorway so that the doors can retract into their respective pockets.
Design and Order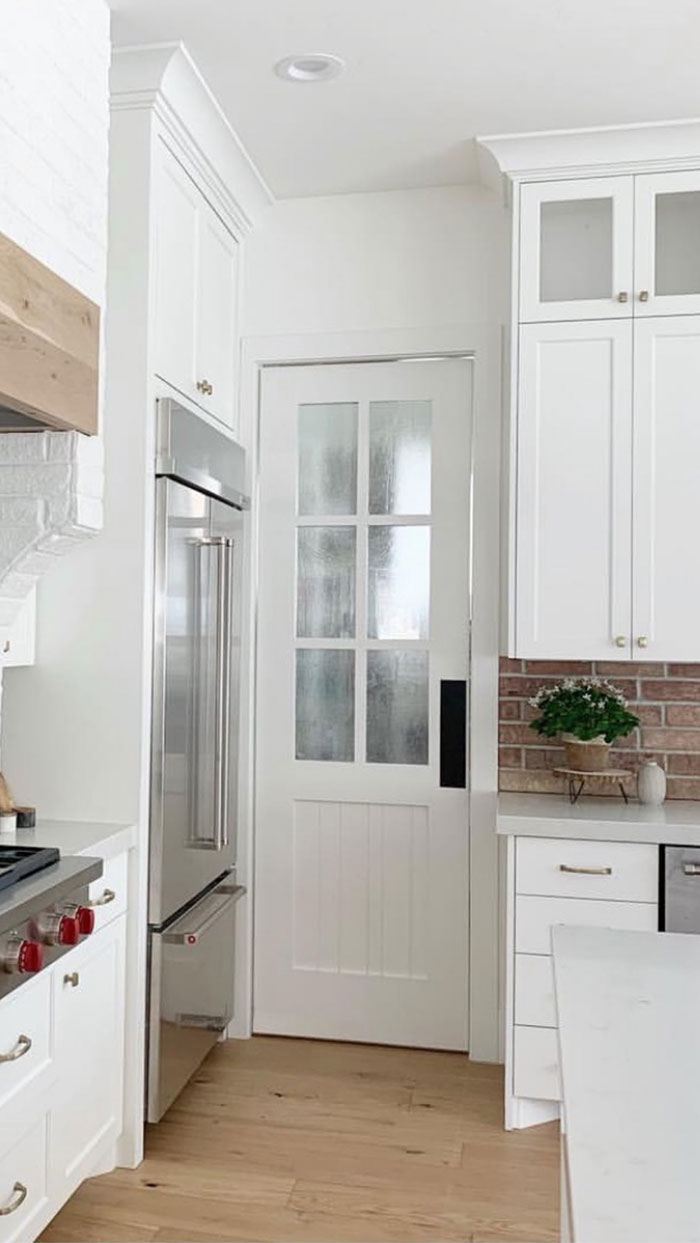 At Artisan Hardware, one of the most fun elements of your project is designing and ordering the door slab. Artisan has a wide variety of slabs for every style. It's easy to match the décor, color scheme, and architecture in your home when you choose to order and customize your wood or glass door with Artisan Hardware. We can even provide
custom interior doors
for special projects.
After you've chosen the perfect door for your project, be sure to purchase pocket door hardware to go along with it. Whether you plan on installing a glass pocket door or a classic wood slab, Artisan Hardware has the appropriate pocket door kit. Make sure to include a pocket door lock in your order for rooms that require extra privacy, such as guest rooms and bathrooms.
Gather Tools and Materials
The key to a successful pocket door installation is making sure you have all needed materials on hand and readily available. There's nothing worse than getting started after you've read your "how to install a barn door" directions only to realize you're missing materials. In general, you'll need:
Safety Goggles
Levels
Measuring Tape
Stud Finders
Pry Bar
Drop Cloth
Drywall Sheets
Drywall Screws
Pocket Door Hardware Kit
At this stage, you'll want to make sure you have all the pieces in your pocket door hardware kit. If you purchased a pocket door latch, make sure it's also available and ready. You don't want to have anything missing when you start your project.
Remember: Make sure to order a pocket door hardware kit for each door you plan to install. This kit is similar to a
barn door hardware
kit and comes with everything you need to mount your door.
Remove Old Door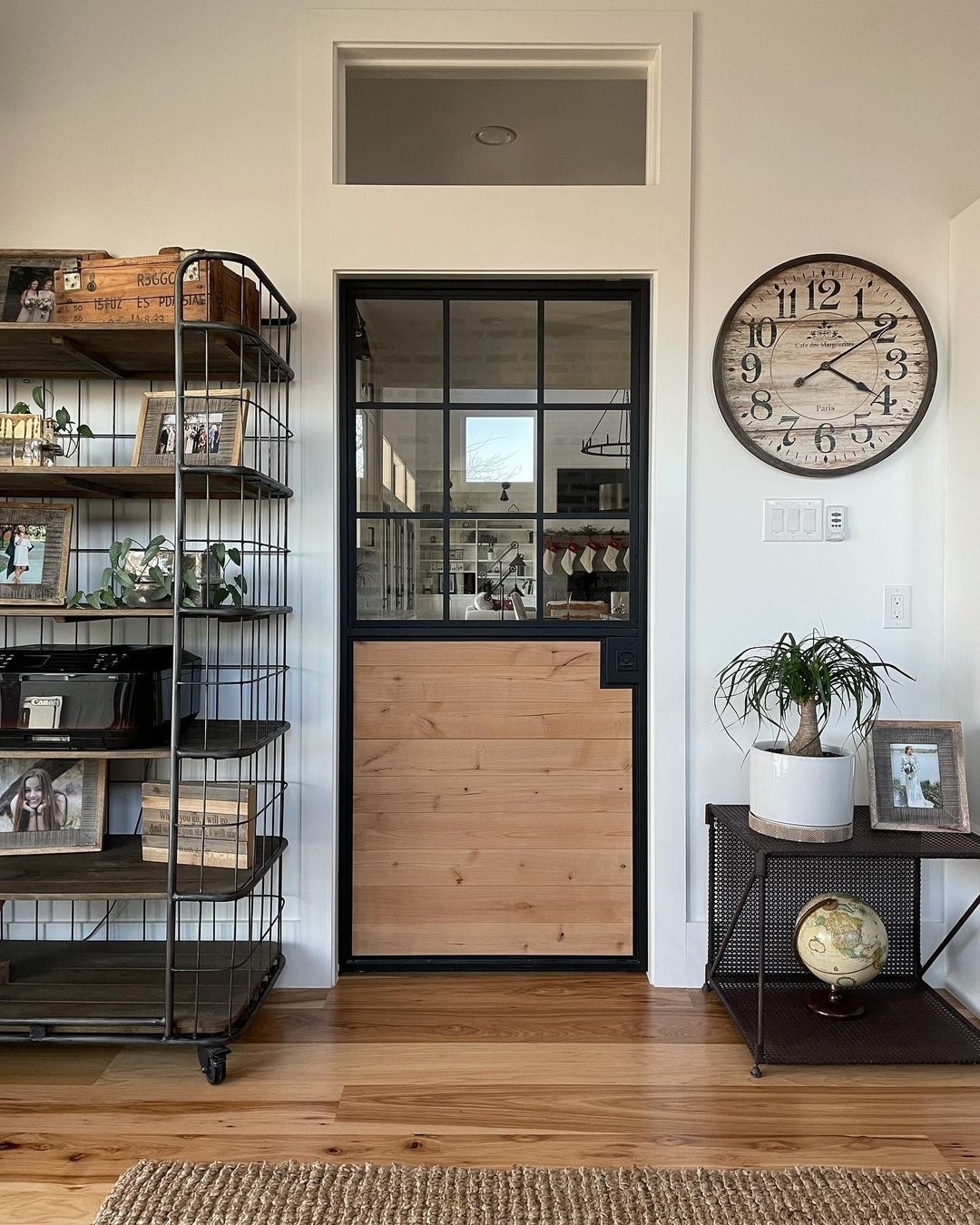 Let the fun begin! Lay your drop cloth down to protect your floors and keep any debris from getting smushed into flooring or carpet. Next, you'll want to remove the old door, the door frame, and the moulding. This is the first step for providing access to create a pocket door frame. This step is also the first one you'll encounter to access a pocket door for pocket door repair, so keep these instructions in mind for the future.
Remove Drywall
At this point, you'll need to remove drywall on one or both sides of the wall. If you're particularly skilled with a saw and you're not worried about cutting into drywall on the opposite side, just remove one side. Removing drywall will expose the supports in the wall. Double-check at this point that there are no wires.
If you're working with a partition wall, at this point you can cut the exposed studs. This provides you with room for the new framing of your sliding pocket door. If your wall is a load-bearing wall, follow the guidance provided by a construction expert.
Install Header and Track
Once you have the proper space exposed, you're ready to install the pocket door track and pocket door guides. The door track comes with your kit and detailed instructions are provided for the installation process. Exact instructions will depend on the size of your door. You might need to install a new header to support your door before installing the track. Reference your instruction manual for this piece of the puzzle.
Remember: If you have any questions about installation, Artisan Hardware experts are available to provide guidance when you need it. Give us a call and we'll help you out!
After you install the header and track, it's time to install the pocket door rollers onto the top of your door. Again, check the instructions that came with your hardware kit for this process.
Mount Door onto Track
Depending on how large and heavy your door is, this step might require more than one person. After you've installed the pocket door rollers onto the door, lift the door and slide it into the track. Slowly slide it all the way to the end to make sure the wheels roll properly and there are no jerky motions or problems with sliding. The wheels should be perfectly smooth for this process.
Once you're satisfied, take the door down and install your pocket door pull or pocket door lock onto the side of your door. This is also the time to make any final touches to your door, such as embellishments or paint.
Finally, place the door back onto the portion of the mounted track, then finish mounting the second half of the track according to the instruction sheet. Now, slide the door all the way from one side to the other, ensuring the door floats smoothly the entire time.
Repair Wall and Replace Trim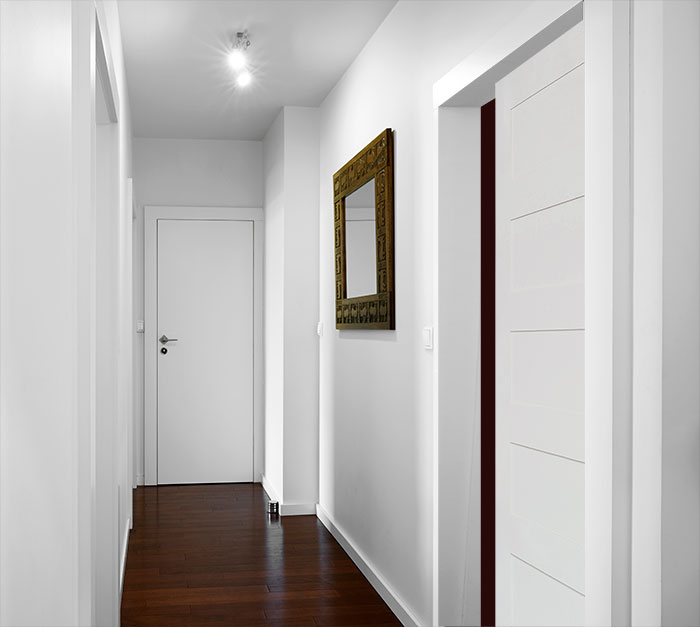 You're almost done! Now that your door is successfully in place, you'll want to repair the wall and replace your moulding and trim. Use new drywall to cover the hole you uncovered to install your door. Once your drywall is hung and secured, use joint compound to fill any holes created by screws or nails. Finally, paint the wall to match the rest of your room.
Now all you need to do is reinstall the trim and moulding around the doorway and you're done!
Perfect Pocket Doors for Your Space
At Artisan Hardware, you can choose from a wide variety of slab doors for your project. Here are some of the all-time favorites.
Artisan Brace Sliding Barn Door: This is a classic barn door style slab that looks amazing in rustic or farmhouse-styled homes.
Classic 2-Panel Barn Door: Give your home a fresh look with this 2-panel barn door. Don't let the title fool you. This door can easily accent homes that are modern, traditional, farmhouse, French, or even Mediterranean in style.
Aztec Barn Door: Looking for something with an artistic flair? This door is perfect for art studios, children and teen rooms, and houses that boast a more eccentric style. The style goes exceptionally well for homes with a New Mexico flair.
Reclaimed Barnwood Door: If you want to bring your love for all things natural and recycled into your home, this slab door is the one for you. Made from naturally aged lumber, each door is unique and will fit in a variety of modern or rustic-styled homes.
Chalkboard Barn Door: Want a fun addition to your children's room, playroom, or game room? This slab door provides the perfect transition from one room to the next with its playful chalkboard surface that is fun for all ages. If you're looking for pantry door ideas or transitional spaces for a laundry room, this door also works exceptionally well.
Style Your Home Right
Now that you have an idea of how to install a pocket door, you're ready to grab a partner and get to work. Whatever Artisan Hardware door slab you choose, from chalkboard pocket door, a trendy and artistic version, or a glass pocket door, you're sure to give your home the upgrade it needs.
Provide a pop of style, privacy, and convenience in every room by installing a pocket door. Installation might take a little longer than some other projects, but by the time you're done, you'll know that it was well worth the effort. Be sure to stand back and admire your hard work once you're done!