A farmhouse door or set of barn doors can bring rustic farmhouse style to almost any design. Whether you have a modern farmhouse home or you're going for a more classic farmhouse look, your farmhouse door can make for an eye-catching piece in your home. With multiple sliding farmhouse door styles available, it's easy to find one that suits your design and taste.
12 Farmhouse Doors for a Rustic, Farmhouse Look
Artisan Brace Sliding Barn Door
Artisan Classic 2 Panel Barn Door
Chalkboard Barn Door
Vertical Panel Barn Door
Horizontal Panel Barn Door
Weathered Panel Barn Door
Aspen Barn Door
Z Barn Door
X Barn Door
Reclaimed Panel Barnwood Door
Craftsman 3-Panel Barn Door
Modern Mirror Barn Door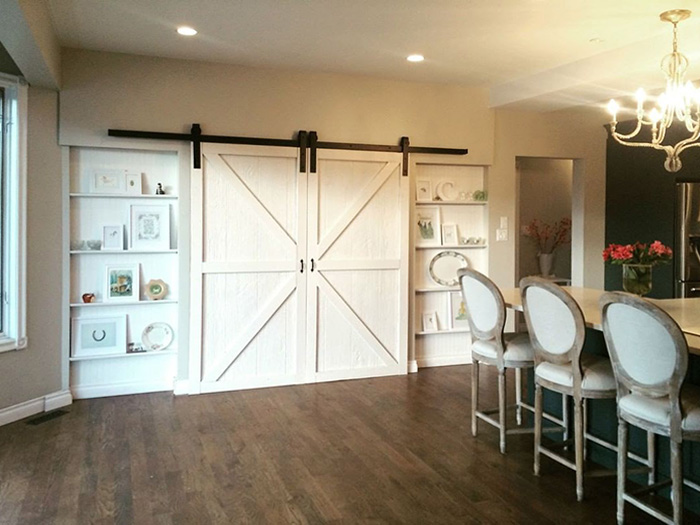 A barn door is a beautiful piece of decor that brings both style and function to your home. Farmhouse sliding doors keeps areas of your home, like an office or bedroom, closed off for privacy or separation, while also adding an extra dimension of decor to your home.
The farmhouse door options above are just a few of the several sliding barn doors that Artisan Hardware offers. The styles run the gamut of classic country door sets to a more modern farmhouse look, giving you plenty of options for your farmhouse pantry door, entry door, living room space, and more.


12 Farmhouse Doors to Achieve That Rustic, Farmhouse Look
Whether you're looking for
kitchen barn doors
or decorative doors to give your home more of a rustic feel, Artisan Hardware has a farmhouse barn door for you. The below options are some of our most popular for integrating with a farmhouse design.



1. Artisan Brace Sliding Barn Door
The
Artisan Brace Sliding Barn Door
is one of the most coveted from Artisan Hardware. This door brings a traditional farmhouse style as an alternative to swinging door options for bedrooms, offices, and other home spaces. This door looks especially gorgeous with painted brick walls to add to a modern farmhouse style.
The two-panel is available in a range of finishes, including charcoal gray, jacobean, and dark walnut, to replicate that rustic sliding barn door look wherever you want to hang it.


2. Artisan Classic 2 Panel Barn Door
Artisan's
Classic 2 Panel Barn Door
fits styles that are going for cleaner, geometric shapes and patterns. Still, it can work with just about any style, from the most rustic farmhouse design to more modern farmhouse looks, thanks to its various finish options. Choose anything from a raw unfinished look to a crisp and clean white finish.
Your farmhouse door hardware can completely transform the look of this door, too. Be sure to choose a finish and style that fits the decor of the room in which you're installing your rustic doors.
3. Chalkboard Barn Door
A fun way to add function and style to a kitchen or living area is with a
Chalkboard Barn Door
. Framed with engineered alder wood, this sliding barn door has a working chalkboard center, allowing you to jot down reminders or leave special notes for your loved ones before everyone starts their day.
This barn door kit is a perfect pick for an entry door to a mudroom, living room, den, laundry room, or another common area of your home.
4. Vertical Panel Barn Door
The
Vertical Panel Barn Door
incorporates the rustic feel of an old farmhouse door, but its straight vertical panels make it look more clean-cut. This barn door style allows the beautiful wood grain to shine through with almost any finish.
The muted style works well for areas where you want a toned-down look, like a bedroom, study, or bedroom closet. It's also a good option for breaking up horizontal elements of a room, like shiplap walls.


5. Horizontal Panel Barn Door
A horizontal panel door is equally as stylish as a vertical panel door for farmhouse decor. Artisan Hardware has three horizontal panel options. The
Horizontal Panel Barn Door
offers the simplest design with multiple horizontal panels stacked atop one another. This option is one of the most versatile barn door ideas to fit within your farmhouse decor.
To add a little more shape to your design, you might try the
Craftsman Horizontal Barn Door
, which features horizontal panels within a solid frame, mimicking the look of exterior shutters. More modern designs will fuse well with the
Eclectic Horizontal Panel
, which has the perfect blend of rustic and industrial.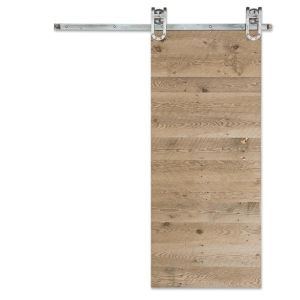 6. Weathered Panel Barn Door
The
Weathered Panel Barn Door
resembles barn doors that are naturally weathered, which is ideal for spaces in which you want a more traditional look. Made from hand-picked, naturally aged lumber, the door features wide horizontal planks that lend well to rustic styles. Use these doors to close off a dining room, play area, study, or bedroom.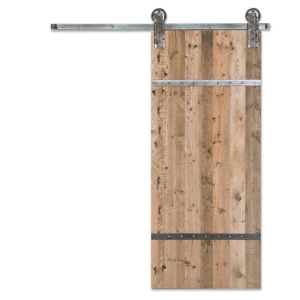 7. Aspen Barn Door
Looking for doors that look like they were pulled straight from the barn and brought into your home? The
Aspen Barn Door
is perfect for achieving that look. Made with reclaimed wood, the Aspen Barn Door can be industrialized or made to look even more farmhouse-worthy, depending on the hardware you choose. These super rustic doors are often used for dens and master bedrooms, but can also work well for dining room doors as a replacement for the more traditional French door.
8. Z Barn Door
Choose between the
Z Barn Door
or the
Modern Z Barn Door
if you love the authentic Z-shape you'd find on the traditional door options for barns. While the Z Barn Door has vertical panels behind the "Z," the modern version doesn't, giving it an overall cleaner look. Either one looks gorgeous in any finish, from an aged wood look to farmhouse doors finished in your favorite paint color.

9. X Barn Door
There's also the
X Barn Door
, another traditional door option for that straight-from-the-barn look. This door includes a wood frame surrounding vertical wood panels, topped with an "X" overlay that lends itself to both durability and aesthetics. Use these doors to separate a large living area or cover the kitchen pantry. Or, add them to your entrance area to close off your mudroom or laundry room.

10. Reclaimed Panel Barnwood Door
If you'd like your farmhouse door set to add a unique visual to your space, try the
Reclaimed Panel Barnwood Door
. This door is made with nature-aged lumber. With the panels pieced together horizontally, you get a beautiful variety of different wood and finishes, leading to a natural, rustic look. This door would work well in main living areas as a focal point of the room.

11. Craftsman 3-Panel Barn Door
Craftsman style pulls in natural elements, like wood and stone, without overwhelming the house with those elements. The
Craftsman 3-Panel Barn Door
strikes an excellent balance between rustic and more modern styles with its clean-cut style. Carefully placed wood pieces offer a finished look, but your choice of stain or paint finishes will ultimately decide how rustic you make the finished barn door look.

12. Modern Mirror Barn Door
If you have a small bedroom but still want to include a farmhouse door, consider adding a
barn door mirror
. The best way to do it is with the
Modern Mirror Barn Door
, which is made with a gorgeous wood frame that nestles a full-length mirror. Use the door for your closet door to pull in that rustic vibe you love while also making it functional for everyday use.
Farmhouse Door Color and Hardware
Now that you've decided on the farmhouse door or doors that'll fit right in with your home's design, it's time to think about finish and hardware. Both elements can completely transform the look of the door and help you pull in other styling details.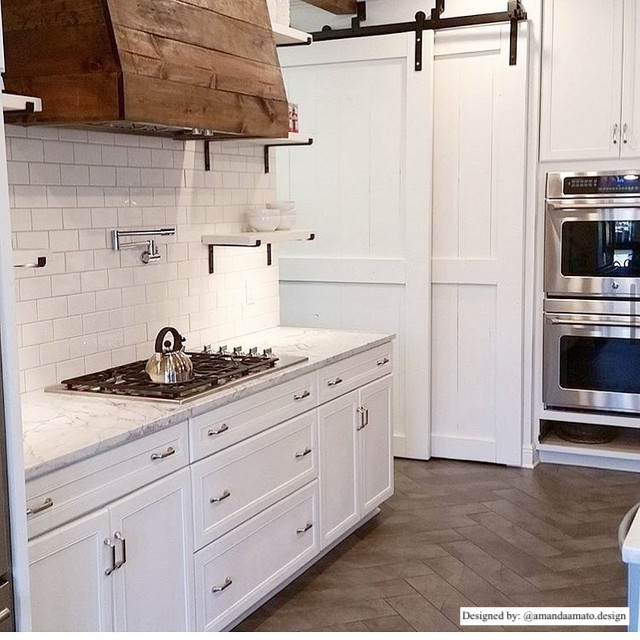 Artisan Hardware offers an array of finishes for many of its farmhouse doors, allowing you to get that farmhouse exterior or interior look wherever you decide to mount your door. From a bright white paint color to dark stains, our finishes run the gamut of clean-cut to rustic.
If you're really going for a more rustic look to match your traditional farmhouse decor, we recommend choosing a finish that compliments your style. Try painted barn wood, jacobean, stripped white, or barn grey. For a more modern barn door and style, go with matte black, simply white, trout gray, or light sage.
We also have fun pops of color to experiment with, like whipporwill, navy blue, and barn red, any of which could make for an eye-catching farmhouse exterior door to add curb appeal to your home's exterior.
Your
barn door hardware
is another important aspect to consider when choosing the details of your door. First, consider whether your farmhouse door will be an interior door or exterior door. The hardware can be the same for either, but the way you'll use your door may help you decide what kind of hardware is best.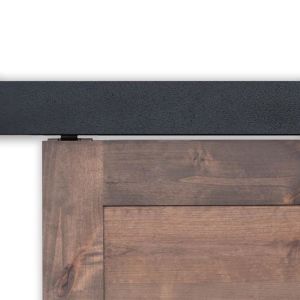 Exterior and interior barn doors typically use a flat track, box track, top mount, or
no show hardware system
. If you'd like your hardware to show, a flat track or top mount system is best. If you'd rather the door do all the talking, opt for a box track or no show system.
Our barn door hardware is available in several colors, styles, and designs to help you add to the overall look of your door. We offer copper, chrome, and brass finishes for a stand-out look, or you can opt for a more traditional farmhouse feel with a smooth black finish.
Finally, you'll need to choose farmhouse doorknobs and, if necessary, a lock system for your door. Your farmhouse doorknobs are actually handles that replicate the look of real barn doors. Again, they are available in different styles, like tribal and craftsman, and finishes, like copper and steel, to match the track system and overall look you're going for.
A lock mechanism is great for exterior doors and privacy doors, like those for a master bedroom. Our locks range from simple hook and eye latches to a full privacy lock.
Choose the Right Farmhouse Door for Your Space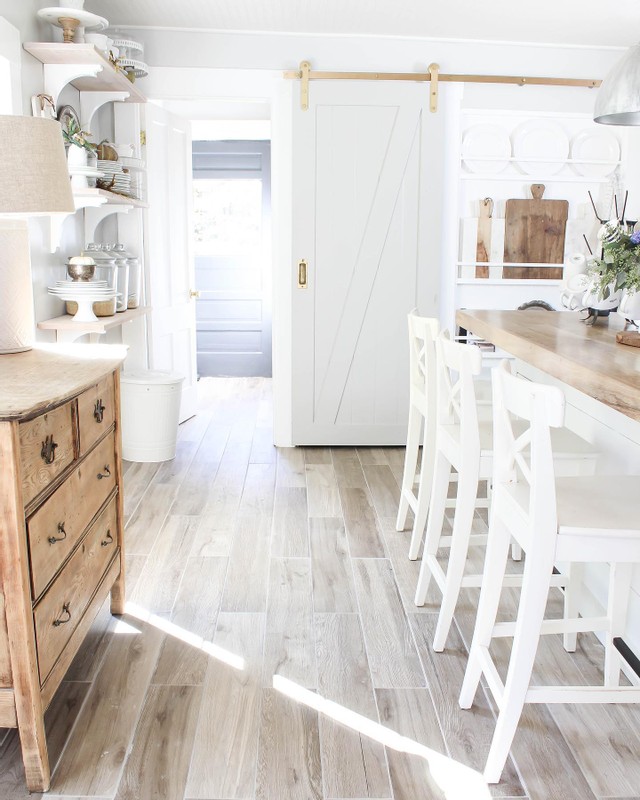 A farmhouse entry door, living room door, or bedroom door can take your home's style from traditional to unique and rustic with a simple installation. Farmhouse doors offer so many styles and finishes, allowing homeowners to find one that matches their unique design plan.
Farmhouse doors are also super functional. Because they don't need to swing out like regular doors, they're excellent for areas where you don't want doors taking up space. Add sliding farmhouse doors to a doorway leading to a laundry room, mudroom, or dining room, for example.
Artisan Hardware's
interior and exterior barn doors
can fit any decor. Browse our designs, choose your finish, and select barn door hardware to customize and buy your farmhouse door online.