For many homeowners, remodelers, and house flippers, the idea of adding a barn door or two to their interior design ranks high on their to-do list. When considering how much work it takes, however, many stop right there. It may come as a surprise that installing a barn door kit is quite simple and straightforward. You'll need to:
How to Install a Barn Door Kit
Measure Space
Figure Out Budget
Purchase Barn Door Kit
Purchase Backer Board
Purchase Barn Door Hardware
Find Wood for Slats
Assemble Barn Door
Install Backer Board and Mounting Hardware
Attach Barn Door Hardware
Test It
Barn doors have gathered something of a cult following among homeowners, everywhere from Midwest farms and ranches to New York City high-rise apartments. One thing is for certain: you can't go wrong with installing a barn door in your home. Whether you use it for your master bedroom closet, a guest bedroom door, your laundry room, a bathroom, or to create an entryway for your kitchen and dining area, the locations to place a barn door are nearly endless.
If you're the handy DIY type, have some extra time on your hands, or simply want to tackle a new project for your home, installing a barn door kit is fun to put together, doable for beginner DIYers, and an enjoyable weekend project for two.
How to Install a Barn Door Kit in 10 Easy Steps
1. Measure Your Space
Measuring is, by far, the most important step of the barn door kit installation process. If you measure incorrectly, the entire project will come out wrong and then you'll either need to start over or, in the worst case, purchase a whole new barn door kit.
What are you measuring for your sliding barn door kit? First, you need to measure the length of your entryway or closet door opening. Next, you need to measure the width. The length and width of your opening will potentially determine the size of your barn door kit, the type of sliding barn door hardware kit you choose, and whether you need a single sliding barn door kit or a double barn door kit.
Single doors are only going to be so large. For areas that are larger than a single entryway. This includes a closet, an oversized entryway to the kitchen or dining room, or a custom interior door entryway to a den. You'll likely need to purchase a double barn door along with a double barn door hardware kit. If you have a particularly oddly sized entryway, it could be a good idea to decide on
custom interior doors
.
Double-check the measurements you take so you're certain you noted the correct numbers. If measuring isn't your forte, ask for help from a spouse, neighbor, or friend who enjoys DIY projects just as much as you do.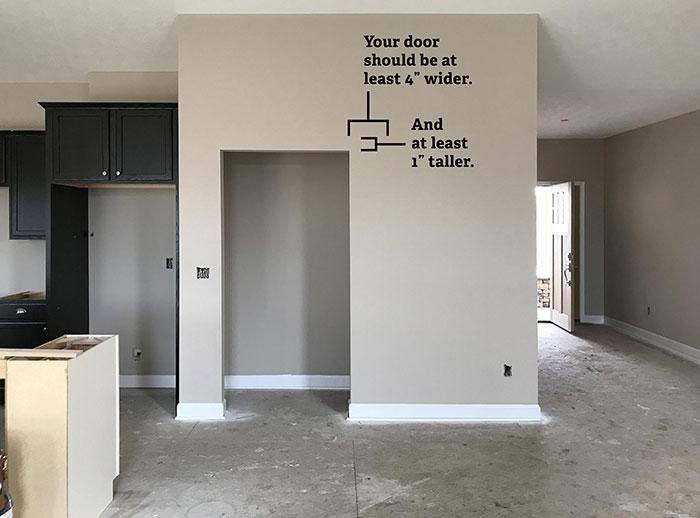 2. Figure Out Budget
All DIY projects require planning and preparation, not the least of which is a budget. Choosing your sliding barn door kit, sliding door hardware options, and extras largely depends on your budget.
At the most basic level, you can choose a barn door kit that comes with instructions and all the stainless steel parts. You'll then be responsible for finding your own barn door wood slats. You can choose from wood that is rustic and weathered, such as wood from an old farmhouse or reclaimed barn wood, or go to a hardware store and purchase new wood beams that you can weather yourself.
If you have a bit more in your budget, you can get a barn door kit with the door included. These kits have less to DIY and are the fastest option available if you have limited time.
Depending on how much hands-on experience you want in building your door and how much of a budget you have to play with, you can customize the barn door hardware to the colors of your choice, such as barn red, white, or oil rubbed bronze. If you want to change the texture, you can even choose forged metal or bonded chrome.
For DIY barn door kits that come with wood, you'll need to choose the finish, texture, and whether the wood has been sealed against the elements. If you're planning to place your door in an outside area such as a patio, garden, or entryway to a sunroom, be sure you purchase an exterior sliding barn door kit and an exterior sliding barn door hardware kit. These kits have treated barn door hardware and wood that is safe to use outdoors. If you purchased an interior door and kit, then you'll need to treat the wood and metal to prevent weathering, rust, and degrading over time.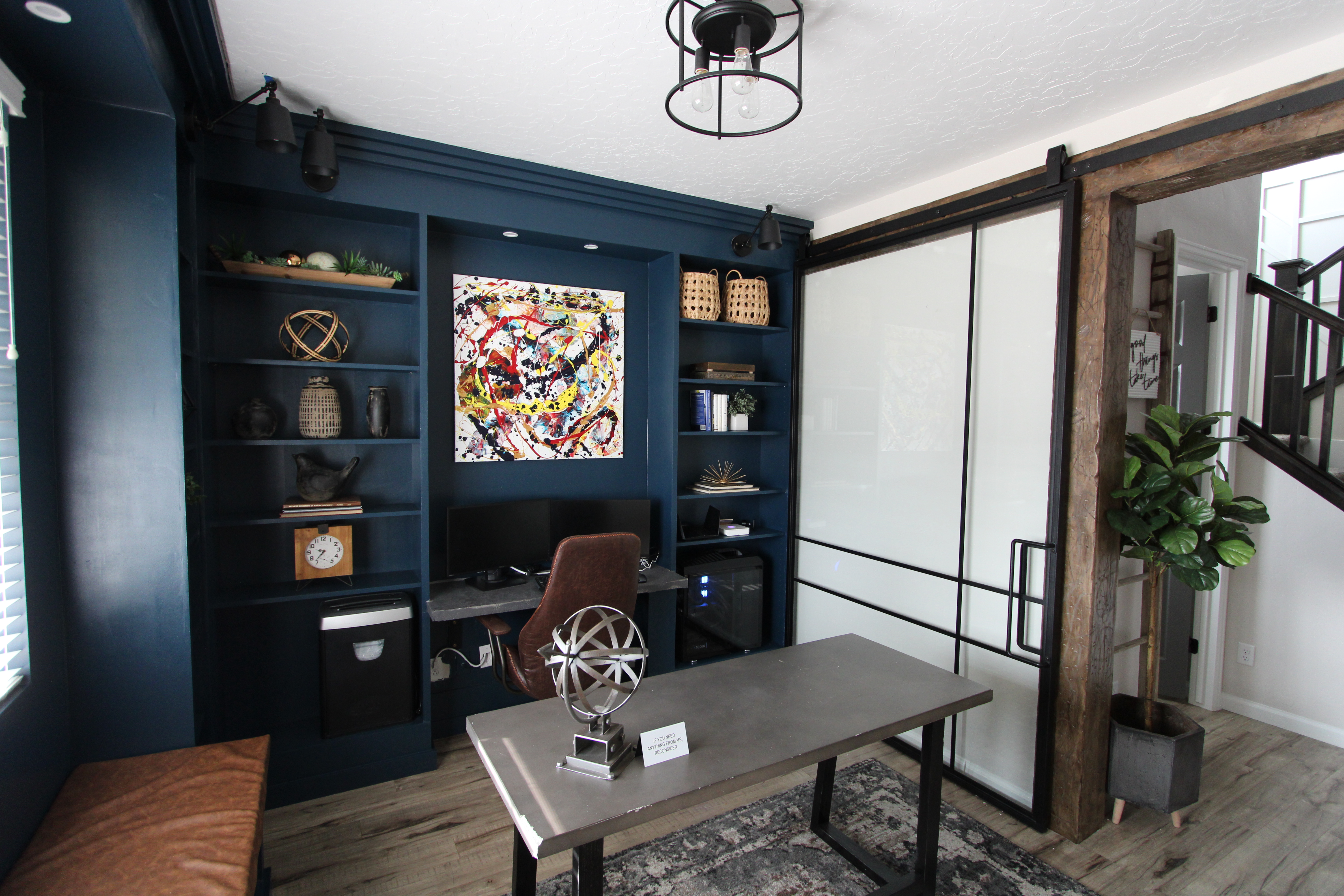 3. Purchase Barn Door Kit
This is the fun part! When you purchase your kit, be sure that the included supplies are ample for your measured space. Carefully check the description when purchasing a kit to make sure you're not buying a double barn door when you need a single, or a cabinet door kit when you need a bypass barn door kit.
When you purchase your kit, you can choose custom options at the same time, such as the type and color of your metal and the type of finish if slats are included. Stay within your budget and get creative.
Consider where you're planning to install the door. Go with cool colors and sleek metals for elegant entryways, such as those to a dining room. For a child's bedroom or guest room, mix and match hardware finishes for a unique door that matches your interior design perfectly. The sky is the limit when you get to hand-pick what you want your
sliding barn doors
to look like.
4. Purchase Backer Board
Most DIY barn doors will need a backer board to hold the weight of the door when installing the sliding barn door mounting hardware.
While you might be able to drill the mounting hardware directly into the wall studs, some areas may not provide the luxury of studs conveniently located. If this is the case, you'll need a backer board or header.
A backer board is a solid piece of wood, typically stained the color of your door or painted to match your wall. The wood is then mounted into the wall studs for support and you mount your door to the backer board.
As you figure out your measurements for the barn door installation, determine whether you can mount it directly into studs or whether you'll need a backer board. If you do, purchase the backer at the same time as your kit.
5. Purchase Barn Door Hardware
When you purchase your sliding barn door kit, don't forget about a sliding barn door hardware kit, if it isn't included.
What do you need in this kit? You need your mounting hardware, including the metal piece it rolls on, the wheels that allow it to roll flawlessly back and forth, and a door track. You'll also want to determine whether you want a handle. If so, order this at the same time and in the color of your choice.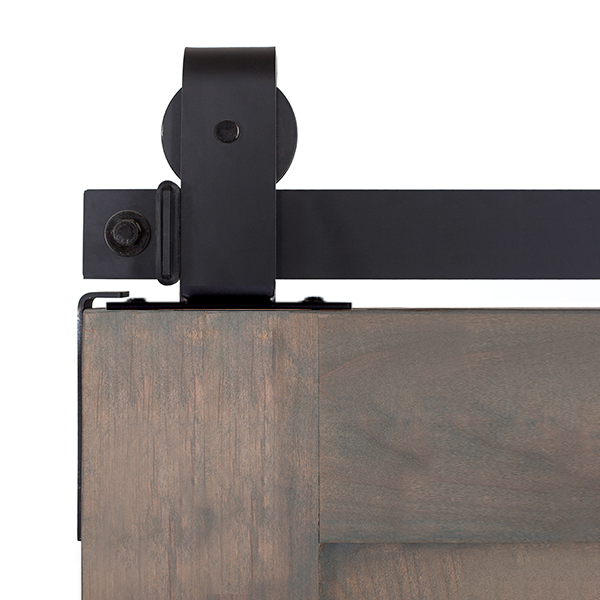 6. Find Wood for Slats
If you're into adventure and building your door from the ground up, then go out and find wood for your slats! Reclaimed wood is some of the most fun to go out and find, just be sure that you're following several rules: you're not trespassing, the owner is okay with you reclaiming the wood you've found, and the wood is still in good shape.
Watch out for wood that is termite eaten or overly weathered. The last thing you want to introduce into your home is a termite infestation from old barn wood that has been left to rot.
If you want new wood, go to your local hardware store. Take your measurements in hand and purchase slats long enough for your entryway. If the wood boards you choose are a little too long, cut them down to size once you get back home. Mark the excess that needs to come off and, using a hand saw, cut the slats to size.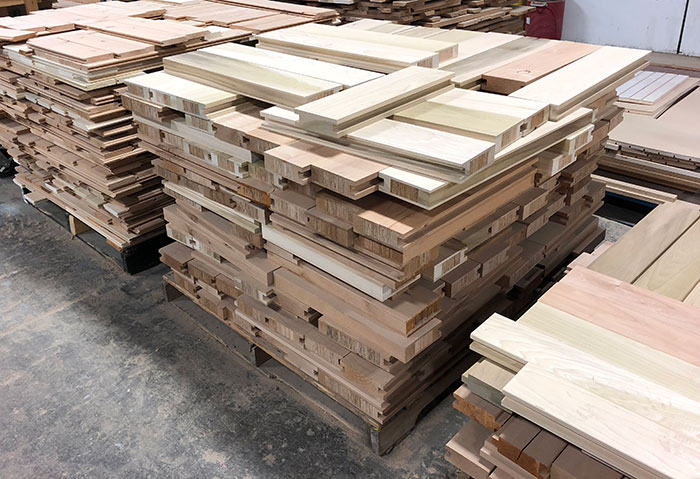 7. Assemble Barn Door
Barn door kits always come with a clear set of instructions and other needed materials, such as screws to assemble the door. You'll need to have basic tools on hand, such as a screwdriver, saw, pencil to mark measurements, tape measure, and safety goggles.
Assembling your barn door should be simple and straightforward. Once slats are cut to size, simply insert them into the metal frame one by one. If you choose to get your own wood and want to paint it, re-stain it, or make it weatherproof, complete these tasks on your to-do list before you begin assembling.
Paint and stain should be completely dry before assembly. While this might add a day or two to your total process, it's important that you don't skip over this step. Putting a door together while the wood is still wet will only result in smudged paint or stain that gets all over your hands and clothes.
8. Install Backer Board and Mounting Hardware
Once you have your wood door assembled, it's time to install the backer board and mounting hardware. Instructions will come with your mounting hardware, and it's important to familiarize yourself with each step. The installation will be different if you're mounting a backer board or mounting the track straight into the wall studs.
Once you've installed your backer board or mounted the door directly into the studs, you need to attach the remaining mounting hardware onto the barn door itself. This consists of the metal pieces and wheels that are used to give the door its characteristically smooth glide when opening and closing the door. Follow all instructions included in the kit. This part of the process shouldn't take too long and can be done by yourself or with the help of a second person.
9. Attach Barn Door Hardware
If you've decided to include other hardware in your kit, such as a front or back handle, this is the time to install the extras. Installing a handle is an easy process and can be completed in a matter of minutes. If you've elected to purchase a runner, this is also the time to set it up. Neither of these extras take long to complete and are very doable for one person.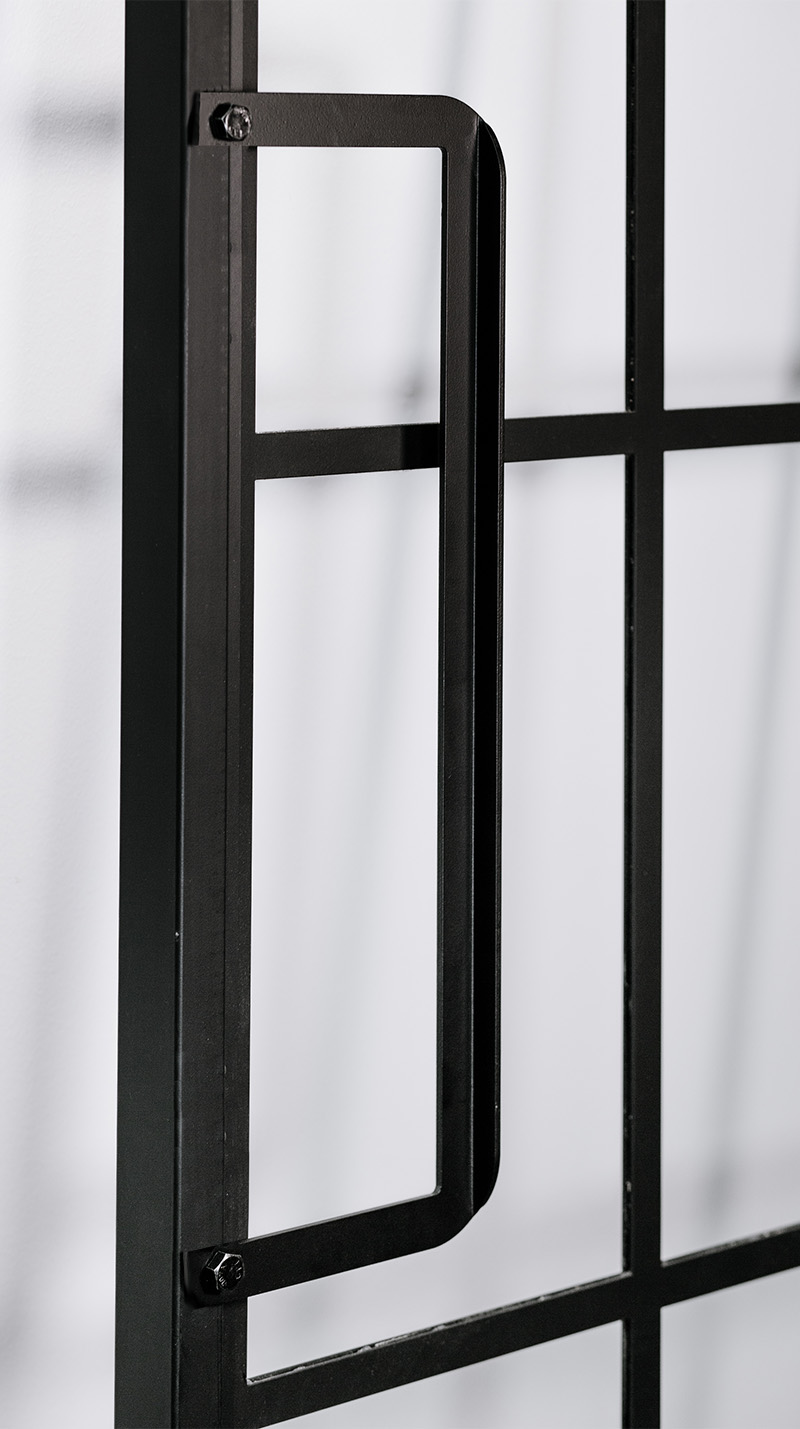 10. Test it Out
You're ready to test out your DIY barn door! This is where an extra pair of hands can come in handy. Lift the door onto the track. Roll it back and forth to test out its function and slip it in between the bottom runner. Once satisfied, place your stop on either side of the mounting track to prevent the door from rolling too far and coming off.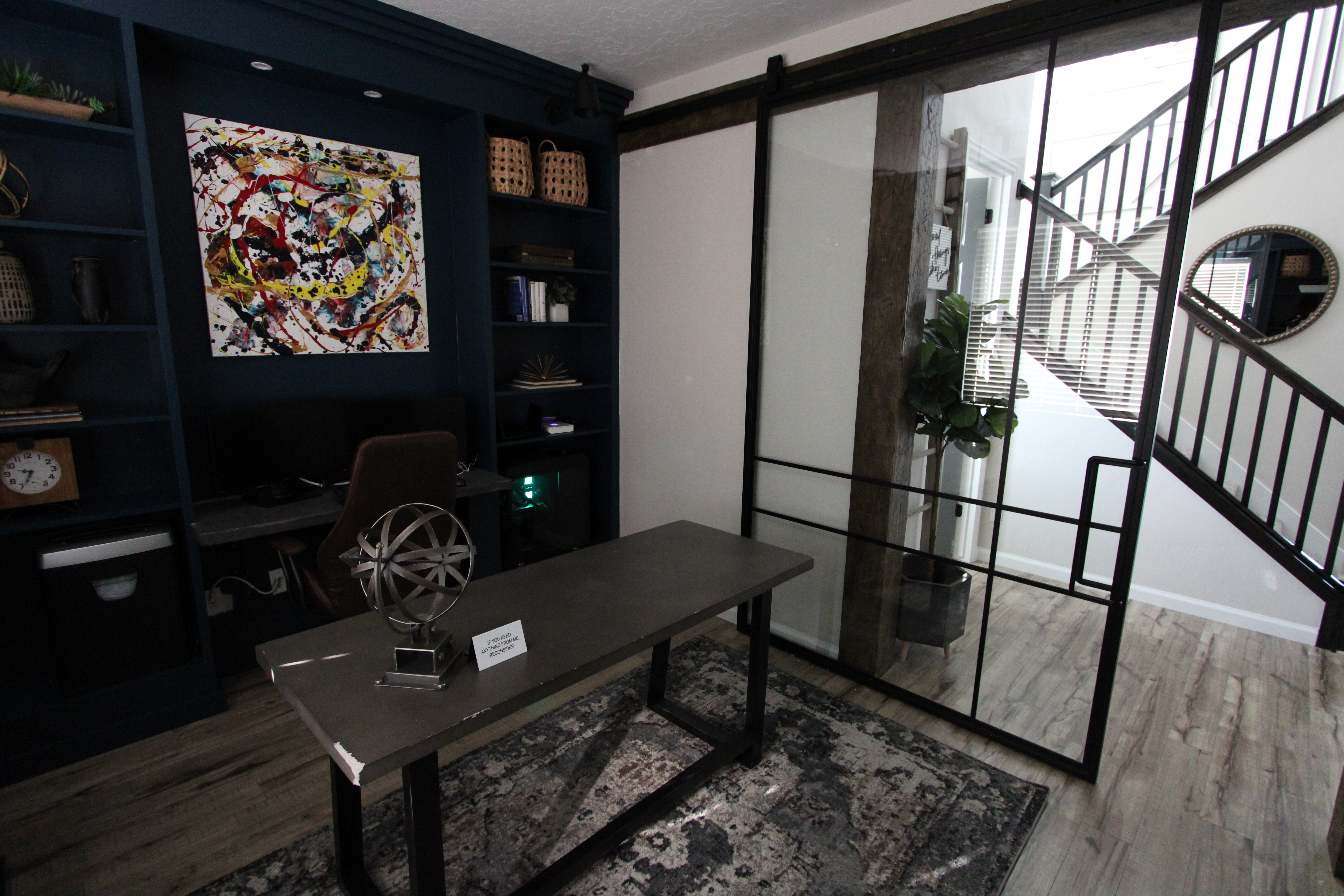 DIY Your Way to a Fantastic Home
With a complete sliding barn door kit, you have everything you need to install your barn door in just a day or two. While most of the door can be assembled by one person, it is helpful to have help when lifting the completed door onto the track and testing it out.
There's nothing quite as satisfying as taking a step back and admiring your finished work. It goes without saying that your new
interior barn door
will make any room look like a million bucks. If you ever think of moving, your house will also have increased curb appeal for every prospective buyer who looks.
Whether you live in your home for the next twenty years or enjoy it for a few before moving on, you'll never regret installing a DIY barn door kit.