Picking out a Barn door for your home can be slightly stressful if you're new to the process. We have a lot of barn doors and a lot of different customization options that can be overwhelming, but don't worry, we are here to help! We have put together a simple guide to help you pick out exactly what you're looking for!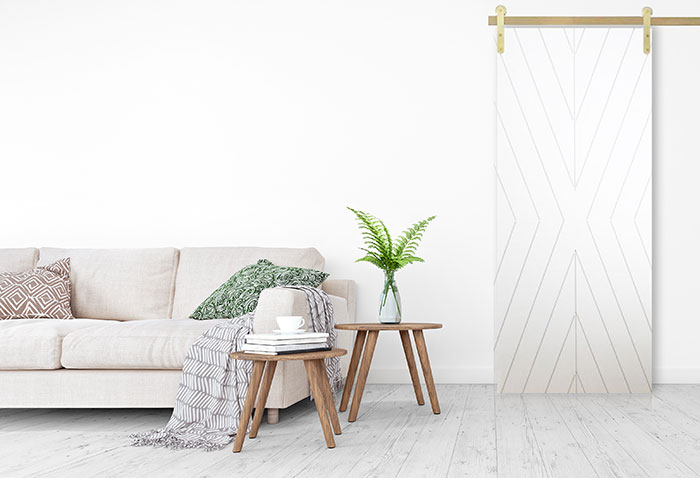 Step 1: Decide on a Style
The first step in picking out the perfect barn door is deciding on the style of door you want. We offer 49 different door styles from wood to metal doors. Metal doors like the
French Panel Barn door
or the
Traditional Glass Barn Door
are often used as accent pieces in modern style homes, and wood doors like the
Chevron Sliding Barn Door
or the
Contemporary Panel Barn Door
are often used as a main focal point in a traditional, rustic, or farmhouse style home.
Step 2: Pick a Finish
Once you've picked the style of door you want it's time to pick the finish. We offer several different finishes from paints to stains. Picking a stain finish like our
Special Walnut
will give your door more of a natural wood look than a paint finish would. Paint finishes like our
Simply White
allow very little of the wood's natural beauty to show through, however, they are super pretty if you are going for a clean and colorful look. All metal doors come in a Flat Black finish for a simple and modern look.
Step 3: Pick a Texture
After you've decided on a finish for your door it's time to decide on the texture. For wood doors we offer a Weathered texture that will give your door an aged, antique look; and for our metal doors you can pick from a series of glass textured options. Texturing the glass on your barn door is a great option to increase privacy and add a little more flare to your door.
Step 4: Put in Your Measurements
Putting in your measurements is the most important step because we want to handcraft your door to fit perfectly. If you need help figuring out measurements
click here
, or as always you call a member of our service team and they will be happy to assist you!
Step 5: Pick Your Hardware
Once you're satisfied with the door you've chosen and all its aspects, it's time to pick out the hardware you're going to use to hang the door! Right underneath the finish and texture options you will see an option to include barn door hardware in your order, click yes, and check out our options.
First,
you need to pick which hardware system you need and whether that's a standard, bypass, or by-parting system. This will depend on the amount of doors you are planning on hanging.
Secondly,
you need to pick the style of hardware you want. We have several different styles from no show's to top mounts to horseshoes to classics. Depending on how much of the hardware you want to show will determine the style that best fits your vision.
Thirdly,
you need to pick the finish for your hardware. Black is a very common finish for barn door hardware however, depending on the door you want, you may want to look into other finishes that will add a little more flare and color to your space.
Lastly,
you need to put in the length of your track. The length of your track should be double the length of your barn door. Then you can decide whether or not you want your hardware pre drilled and with or without a door guide and soft close system. A soft close will keep your door from slamming and a floor guide will keep your door from swinging away from the wall. Both of these items should be considered if you have small children running around!
Step 6: Handles, Locks, & Headers
The very last step in picking out the perfect barn door is deciding whether or not you need a handle, lock, or header. Handles and locks are a great way to add your own unique flare to a door and we offer several different styles and finishes. Headers are highly recommended if you don't know where your studs are and they can be customized by finish and texture. For more info on headers
click here!
And that's it! Click add to cart and check out! If you have any additional questions or need any assistance please feel free to call a member of our service team and they will be happy to assist you!