When you mix patterns, you have to find the right combination of shape, color, shade, and size to create a harmonic vibe within your living space. Here's 8 tips to help you mix patterns like the professional interior decorators.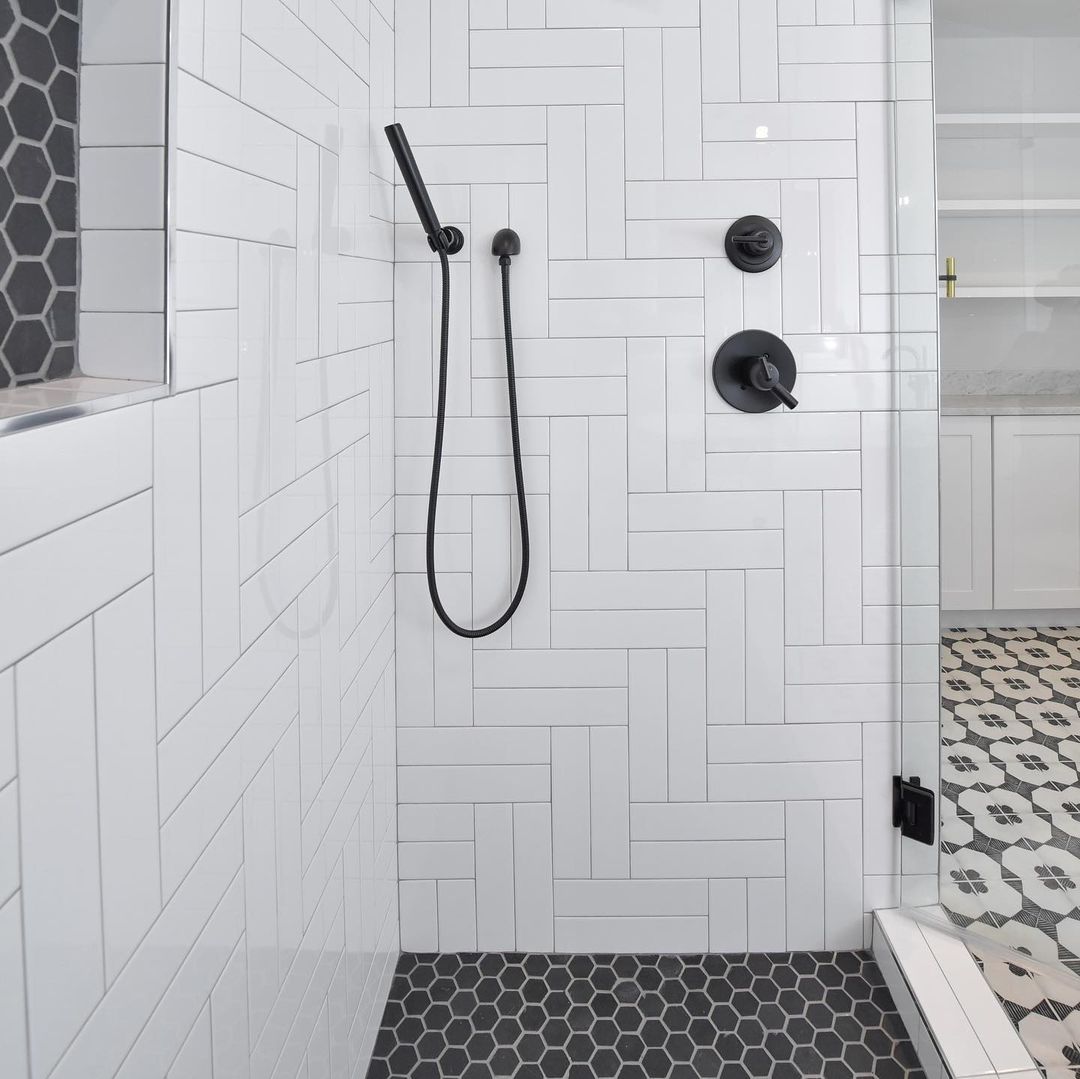 Play with different sizes. When you mix patterns, make sure to incorporate a mix of sizes. Use large-scale pattern styles as a dominant pattern, and combine them with medium or smaller scale patterns for a complimentary accent. For instance, chevron or herringbone patterns are versatile but can be overwhelming in large quantities, so use this pattern on a small scale, like on throw pillows, window treatments, or an area rug to balance out your bigger pattern.
Coordinate with similar colors. Decorating with different patterns that are different colors can overwhelm a room and make it feel chaotic, not to mention dated in just a few short years. Using color schemes within the same color palette or tone can create an aesthetically pleasing environment, while still offering variety in its display. You can still accent with bolder colors, but it's helpful to follow the 60-30-10 rule. This means 60 percent of your room should be a dominant color, while 30 percent should be your secondary color, with the last 10 percent as your accent.
Blend simple and complex patterns together. If you have an intricate pattern you want to decorate your living room or dining room, complement it with a simple pattern that can provide variation and contrast without detracting from the aesthetic of the bolder pattern. An example with tile - choose a very muted pattern for the countertops if you are going with a bold floor or backsplash. Same thing works in reverse - if you have a bold patterned countertop, make your backsplash and floor a simple pattern so you don't detract from your statement counters.
Stick with just a few. Pick two to four patterns to stick with as you develop your room style. While mixing patterns can energize a room and make it look designer, too many patterns without a throughline may look more like a mess than an expertly harmonized style.
Don't forget to add contrast. Staying within your established color palette can help create balance, and so can the varying degrees of light and dark. Using lighter and darker shades of colors can also help certain patterns stand out more, drawing the eye to certain areas of the room, and allowing you to control the narrative. If you normally use greys, venture out to accent with black and white to add contrast. If beige is your thing, play with darker browns and even navy. The eye needs these darker elements to complete the image.
Create a nice visual balance. We've already established that mixing and matching patterns and colors can expand your design capabilities, but doing too much can overwhelm the room. Mix in solid colors every so often to break up the lines and shapes of your patterns. Also ensure that the patterns flow throughout the entire room and aren't just frequent on one side.
Be careful with prints. Print mixing is also an interior design aspect that needs the right balance. Animal prints can look good with other animal prints (or graphic prints), but too many splashed together or combined with vintage patterns can look haphazard. When mixing prints, pair traditional prints with your more eclectic ones to keep a harmonious balance of visual design.
Understand that some patterns just don't go together. While there are a few simple rules for mixed prints and patterns (stripes work well with floral prints and ikat patterns, plaid rarely works with polka dots), they won't work for every room design—or everyone's taste. Many times, finding which patterns blend best with others is a matter of trial and error. Find samples you can place together to see if they are pleasing to your eyes.
With just a little practice, you'll be able to curate a room with multiple patterns like the best of the best interior designers.